Application & Characteristics
PTC Heater with shell, it is very easy to fit, constant temperature, safty, long lifetime. It can be used for heating liquid, and it's no problem when liquid was dried. PTC heater is very appropriate under 260℃ temperature. Main appliances: hair straightener, hair curler (crimper), wax warmer, humidifier, water boiler, liquid warmer, coffee warmer, polymer press-coating heater, hot glue gun, chocolate extruder, etc.
Notice in appliance
1.After switching on, the heating power is large, and then decrease, finally it become steady state. The steady state power depends on applied conditions. Faster is the heat conduction, higher is the steady state power; higher is the surface temperature, higher is the steady state power.
2. The surface temperature of PTC can be controlled by itself, control circuit and protecting circuit may be omitted in most appliances.
3. The surface temperature increases (or decreases) about 8℃, when working voltage increases (or decreases) 2 times.
4. Our PTC products are reliable, long aging, but if they are assembled improperly, the end product may be loose, power or temperature may be instable.
5. Parallel connection is necessary for two or more PTC connection
Configuration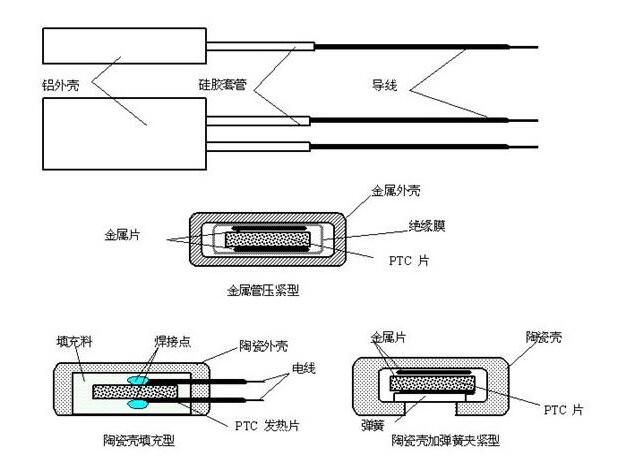 Specification
Notice:
1.Working Voltage rang: 12V/24V/110V/240V; Insulating Voltage :3750V/1sec;
2.Surface Temperature Of PTC Heater: 70℃~290℃, the tolerance of surface temperature less than ±5℃;
3.The lead wire, fiber glass sleeve, insulate film and shells can customized according to per customers'requirements, and all of them are fit with RoHS;
4. Characteristics of warming rapidly, smaller impulse current, and lower breakdown rate;
5. Special requirement can be customized.