1.Type
1)Non-Surfce-Electrified PTC heater Series Non-Surfce-Electrified PTC heater Series is a kind of large power, with wind blowing, and radiator uncharged PTC heater. PTC element is fixed in aluminium tube and keeps insulated with the aluminium tube, alar or tooth-groove radiating fin is fixed on the aluminium tube. The large-power heater has a series of virtues such as safety, reliability, stable power, no sound, long life, excellent machinery, intension and so on. Because of good safe performance, now Non-Surface-Electified PTC heater is mainly used in large-pawer house heater such as cold/warm air-condition, fan heater, disinfecting cabinet, dryer and so on.
2)Surface-electrified PTC Ripple Heater Series
Surface-electrified PTC Ripple Heater Series is a kind of large power heater that can auto- control temperature and save electronic, it is made up of PTC elements and radiator of waves frame, and hot wind can go through on both sides of general PTC elements. The heater with a lot of virtues such as giving out large heat, stable power, using expediently, long life, high reliability, without bright flame. lt is now widely used in house heating instrument such as air-adjuster, wet wipe off, dryer, suti-dryer, moveable heater and automobile etc.
2.Application & Characteristics
The PTC heater is composed of several PTCR ceramic components adhered to wave Al tube by high temperature. It features in low thermal resistance and high coefficient of heat transmission. Besides, when the fan blocked, power of PTC heater would drop down sharply due to insufficient dissipation. Meanwhile surface temperature of heater would remain at the level of curie temperature, which is usually 220℃, so that potential accident would be eliminated. Now it is extensively applied in home aircondition,commercial aircondition as well as household heating appliances.
3.Attention for use
1. Since the power of PTC heater is greatly influenced by ambient, the ideal test measure is to fix it in a complete machine under standard ambient conditions. In practice, we are used to do the test after adjusting relative parameters of simulate air passage by confirmed sample in a complete machine, with ambient temperature at 20±2℃;
2. Considering of the thermal expansion, there should be some gap (above 5mm) around the PTC heaters;
3. For heaters of surface-electrified type, it should be aware that saftey spacing is necessary to keep away from body, metals and frost. Comparatively, the surface-insulation type is more reliable in safety.
4. When heaters connected to three-phase supply, the neutral point should be connected with null line so that terminal voltage would not overtop due to imbalance.
4. The relations among power of PTC heaters, wind rate and ambient temperature
Example: MZFR-J1230 220V 1200W ( Standard test wind rate 4.5mm, Ambient temperature 25℃)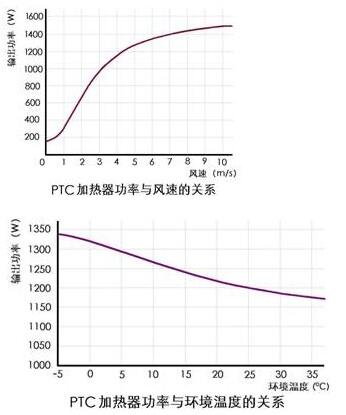 5.Durability of PTC Heaters(Decay Rate)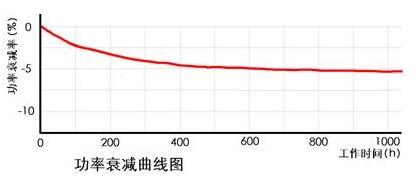 Decay rate is used for evaluating the durance of PTC heaters. According to Industry Standard,the decay rate should ≤10%after working for 1000hours. Here below is the decay rate chart of our standard insulation PTC heaters.